Innovative Manufacturing Services Specialty Tooling and Molds Precision Machining and
other Capabilities
Paragon D&E leads the industry in machining services, with expertise in building Compression Molds and other Specialty Tooling. We are ready to tackle your most intricate projects.
Since 1942, Paragon continues to innovate for the future, whether in extensive Compression Molds, Hydroform Tooling, Precision Machining, Nuclear Energy, Aerospace, and more. Our Engineers, Business Unit Managers, and mold leaders have an average of over 25 years of experience.
We've developed expertise in various forms of precision cutting and machining and have the unique ability to handle huge parts. With a modern facility, we house one of North America's largest double gantry mills! With continued support for existing customers and cost-effective pricing, we take pride in our ability to take your project from concept to mold.
Machining and Tooling Services
Paragon serves a variety of industries
Machine Length Capacity in Feet
Size of Facility in Square Feet
Average Years of Experience
Paragon Products and Services Include
Whatever tooling or machining services you need,  Paragon is prepared to help.
I am sending this to express sincere gratitude for the support and professionalism provided this week by team Paragon during the Bumper molding tryouts and assembly process. The excellent tooling quality that we have come to expect from Paragon was also noted.
Dennis C.
The people that run this company are outstanding. Top-notch quality team.
Tony D.
Large tools, consistently updating equipment, and training environment.
Lead SMC Molding Department
I have friends that work there, and they love their job. I drive for Great Lakes Heavy Haul, and I have the opportunity to haul some dies/molds from time to time. I always enjoy it when I get to work for this company. Great place Great people solid company.
Jarad R.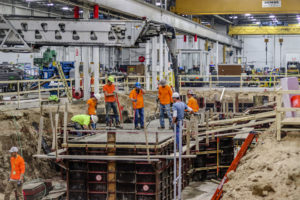 As a manufacturer in automotive, aerospace, fabrication, and more, how do we try to rise
Read More »